SKI.RU FACTS
We are 13 years old
We were born in September, 2003. As a matter of fact we are not old but 13 years young ;-)
We are the 1st in Russia
SKI.RU is the most popular internet media among web-sites about alpine skiing and snowboarding. More then half a million people visit us monthly during high season. Our audience is 3 to 4 times wider then the audience of our nearest competitive.
Winter sports have great potential in Russia
Three millions people skiing or snowboarding in Russia. Every year this number increases by 15%. After he Olympic games in Sochi 2014 we faced with extended growth.
We are popular
75% of Russian skiers and snowboarders read our media.
Ski.ru is a social media
Besides news and articles we assign a great part to communication. About 40% of our users share their information and opinions on our forum.
SKI.RU is a trend setter
We have strong authors, who fill in SKI.RU with expert advice and opinions. We always carefully with our reputation and became highly trusted source for skiers and snowboarders.
THE SITE STATISTICS
__The SEASONal (sept.-march.) unique visitors



Winter time is peak of our popularity. Activity of our visitors is steadily growing from September to the beginning of ski season.
Summer audience is around one hundred and half thousand visitors monthly. We are working on promotion of summer activities to increase our popularity during off-season.
OUR AUDIENCE
__ GENDER&AGE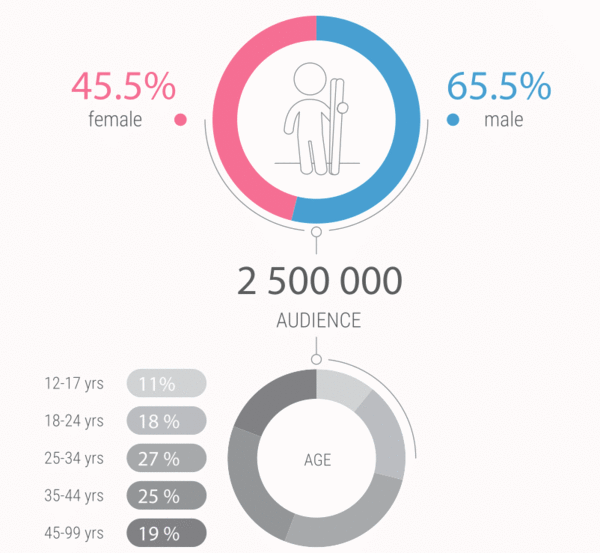 __ WEALTH



__The geography of SKI.RU audience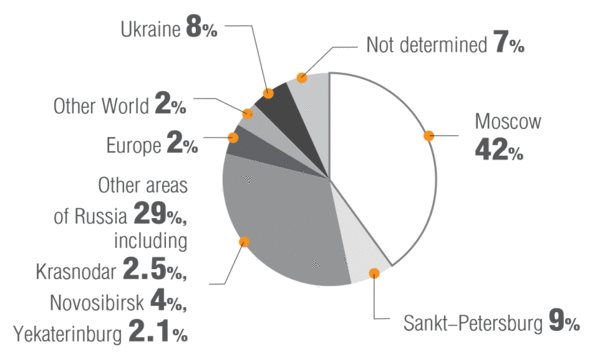 We are well known at Russia and nearby countries. We are planning to diversify our presence in Russian countryside and abroad.
Our audience is a mix of diverse people united by one common passion: love for mountain scenery, alpine skiing and snowboarding.
OUR AUDIENCE
__Interests of our readers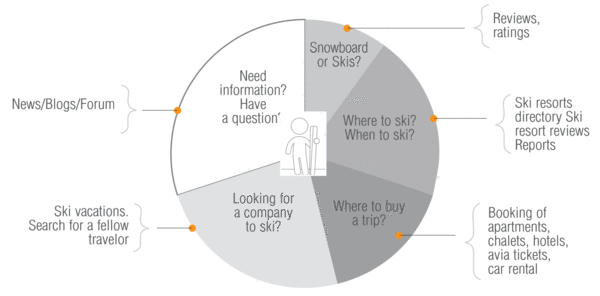 __ SKI.RU traffic MAP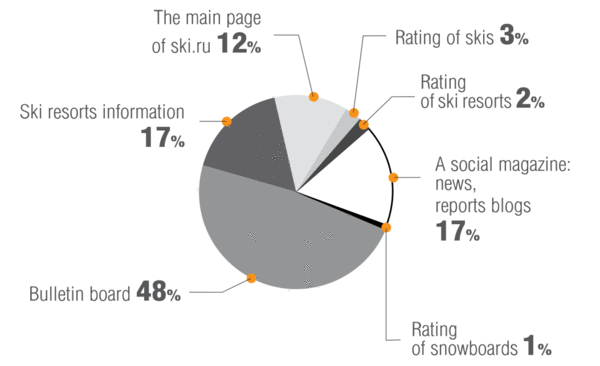 SKI.RU STRUCTURE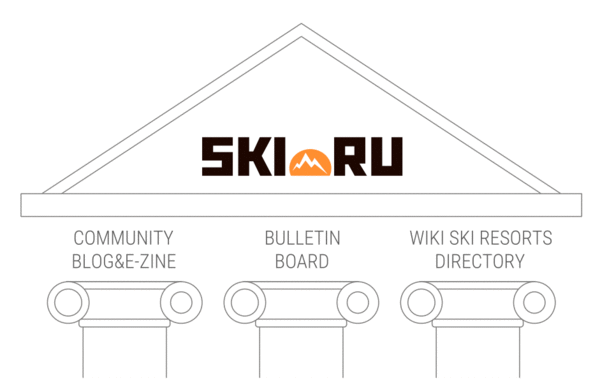 __SKI.RU COMMUNITY AND PUBLICATIONS



@ OUR SOCIAL MAGAZINE AND BLOGS
- The main content of our portal
- Includes reports, travel reviews, expert opinions and publications of ski.ru journalists
- Updated daily. About 2500 contributors from our core and most active audience.
@ NEWS
- News from ski resorts, sport news, press-releases
@ OUR FORUM (BULLETIN BOARD)
- Discussion of topics relating to alpine skiing and snowboarding, snow resorts, equipment and etc.
- Up to 400 visitors simultaneously.
- 65 000 people are registered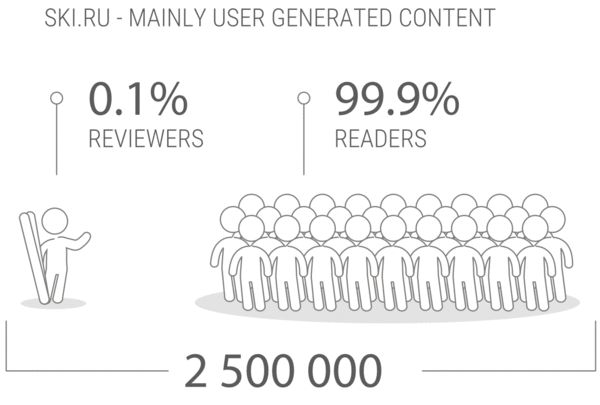 __SERVICES
@ SKI RESORTS DIRECTORY
- The most popular service.
- The biggest ski resort base in Russian 500 ski resorts
- Continuously updated
@ SKI RESORTS REVIEWS AND RATINGS
- Ratings are based on seven characteristics.
- More then 5000 opinions since 2004
@ SKIS AND SNOWBOARDS. REVIEWS.
- Our database of equipment composed by riders and tourists
- 3000 reviews since 2005
@ SEARCH FOR A FELLOW TRAVELER
- Helps to find a new frend or company to ski together
@ OFFERS FROM TRAVEL COMPANIES
- Tours offers from our partners and travel agencies
- Contextual advertising of tours
SPECIAL PROJECTS
Quizzes and intellectual competitions
Dolomites SuperSki 2008
Sponsors: Ministry of Tourism of Italy, the Tourist Office of the combined region Dolomite SuperSki ( Italy)
Benevento, Piedmont ! 2009
Sponsors : AscentTravel, the Ministry of Tourism in Italy , a tourist office in the region Piemonte (Italy)
Meet Norway 2009
Sponsor of the contest: the Royal Norwegian Embassy, the resort Trysil (Norway)
Valley Tales - Valled'Aosta 2010
Contest Sponsor: AscentTravel, Ministry of Tourism Valle d'Aosta (Italy)
Skier starts in Finland (2010)
Sponsor of the contest: the resort of Levi (Finland)
The Sun of Crans-Montana (2011)
Sponsor of the contest: Switzerland Tourism in Moscow, resort of Crans -Montana (Switzerland)
Carinthia - sunny edge of the Austrian Alps (2012)
Contest Sponsors: AscentTravel, resort Carinthia (Austria)
Let's win WinterX-Games (2012)
Sponsor of the contest: International tour operator PACGroup, resort Tignes (France).
Try to guess what are these mountains? (2013/2014)
Longtime quiz. Sponsors Tour Operator Erzog, online ticket agency Biletix, AirBerlin.
QUIZ «DOLOMITI AND ME» 2014/15
Total reach 200.000, participants 219, winners 15
Content contests (articles and photos )

Summer Recipes (2009)
Collective sponsorship (Tour Operators )
Annual Content Prize SKI.RU ( 2009, 2010, 2011, 2012, 2013, 2014, 2015 )
Collective sponsorship (Tour Operators and Sports Brands )
Retail Chain SPORTMASTER PR 2014/15
Special campaign for promotion high level skiing and snowboarding equipment.
Outdoor and Offline Events

Thematic area «Grani Freeride « (2011, 2012, 2013 )
Exposure to International Ski Salon (Moscow) dedicated to the legendary events, people and artifacts
of the ski world. Installations, seminars , presentations, meetings with professionals in nonstop format makes Grani Freeride significant event at ski world.
Festival of outdoor activities «Liquid Snow .» (2009, 2010, 2011, 2013, 2014 )
Mission Festival - introduce all the guests of the festival in interesting and exciting kinds of summer leisure - fromwindsurfing,kiteboarding,wakeboarding and diving to yoga. The festival has become an
important event in the life of our audience, just two years Liquid Snow audience grew from 200 to 2,000
people.
Alpine Village ski.ru (2013/14, 2014/15)
Ski and Travel festival. Unprecedented number of participants - over 500 duration - 3 weeks. Venue
- Le2Alpes at 13/14, Canazei at 14/15.
Distributed Ski Tests (2013/14, 2014/15 )
Client – trade mark HEAD. Holiday campaign, which resulted in several dozen free skitests events at
several major ski complexes throughout Russia.
Other Events
There are number of our activities every season «The opener» - the opening of the ski season
; « Ski Carnival» - costume show skiing and snowboarding ; « Puddle skier» - closing the ski
season ; « Sandskiing Slalom» - summer holiday with skiing and snowboarding on the sand.
ADVERTISING OPPORTUNITIES
We provide banner ads placement, branding and PR campaigns.
Prices and details
.